NUKILAN AL-QUR'AN DALAM NASKAH TAREKAT SYEKH H. ALI IMRAN HASAN RINGAN-RINGAN (2017-1926)
Zakirman Zakirman

Elva Mahmudi

Shafwatul Bary

STAIPIQ Sumatera Barat
Keywords:
Manuscript, Tarekat Syattariyah, Interpretation, Syekh Ali Imran Hasan, The Qur'an
Abstract
This research is an attempt to investigate further about the treasures of Indonesian scholars in the process of transmitting Islamic religious knowledge. The handwritten manuscript of Syekh H. Ali Imran Hasan which expounds the concepts of the teachings of the Tarekat Syattariyah is the main object in this library research. However, data from in-depth interviews with purposively selected credible sources are also used as supporting material in describing the qualitative analysis of this study. The main focus that becomes research angel in this manuscript is the aspect of the Qur'an which is quite unique in it. Several verses of the Qur'an are quoted and explained in such a way in the realm of esoteric interpretation in the style of the Sufis in general. In addition, several verses of the Qur'an are rewritten in the form of certain patterns, each of which has philosophical meanings in order to achieve certain purposes in the process of associating tarekat. The theory used in analyzing the texts contained in the manuscript is a hermeneutic approach of Jorge Gracia where in analyzing texts two general sub-theories are needed, namely; meaning function and implicative function. The results of this study indicate that the contact of the Indonesian Ulama with the Qur'an which is interpreted according to their respective horizons experiences quite varied dynamics, even different from the interpretation of the classical Ulama style which seems singular and normative.
Downloads
Download data is not yet available.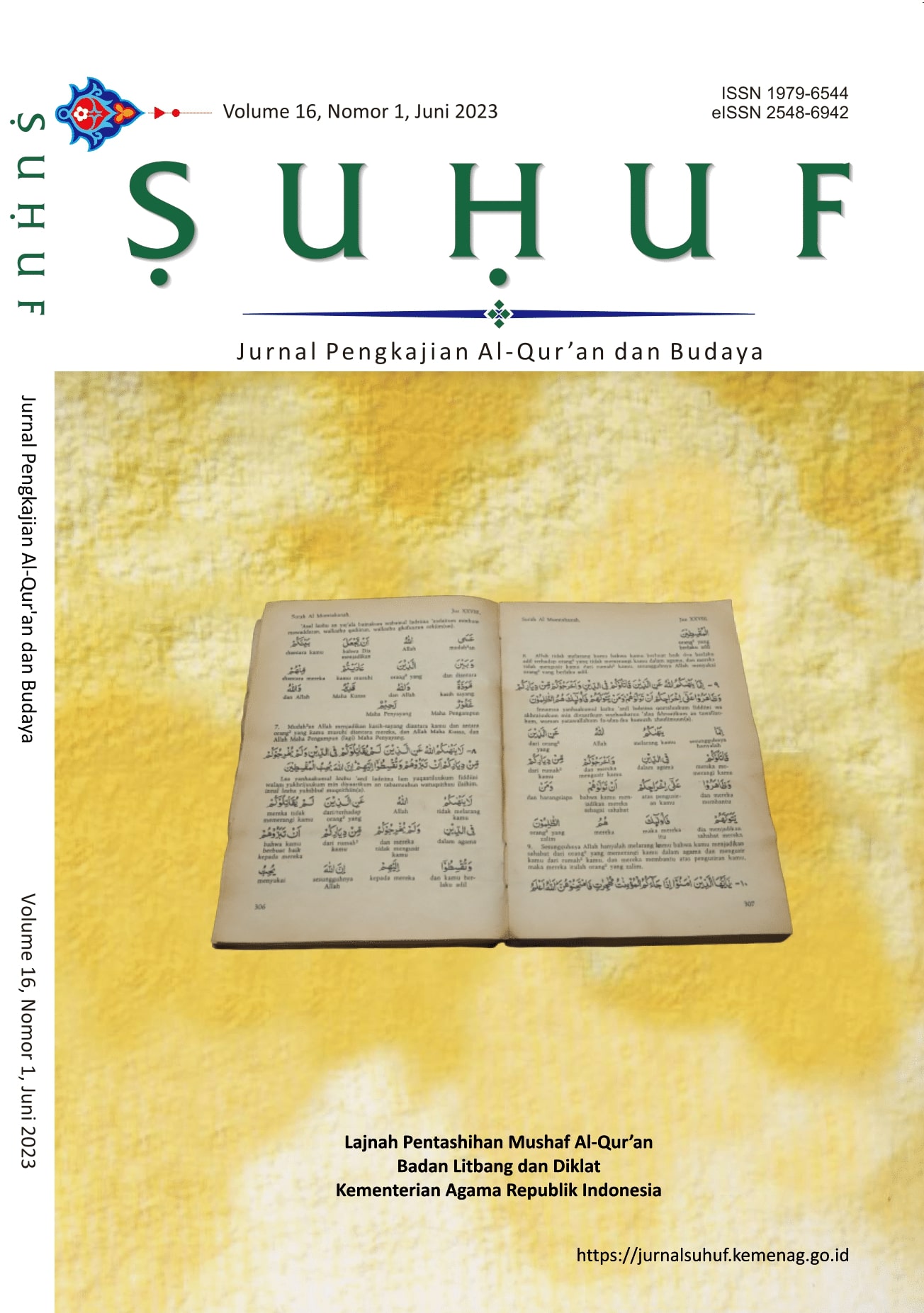 How to Cite
Zakirman, Z., Mahmudi, E., & Bary, S. (2023). NUKILAN AL-QUR'AN DALAM NASKAH TAREKAT SYEKH H. ALI IMRAN HASAN RINGAN-RINGAN (2017-1926). SUHUF, 16(1), 155-177. https://doi.org/10.22548/shf.v16i1.804
Copyright (c) 2023 SUHUF
This work is licensed under a Creative Commons Attribution-NonCommercial-ShareAlike 4.0 International License.