Pembakuan Rasm Riwayat Abū 'Amr Ad-Dānī dalam Mushaf Standar Indonesia
Nor Lutfi Fais

Universitas Islam Negeri Walisongo

Nurul Khasanah

UIN Walisongo Semarang

Kun Khoiro Umam Al Muafa

Institut PTIQ Jakarta
Abstract
The application of rasm usmani in the Qur'an is still having different opinions among scholars and the qur'anic experts. But, in fact, there are many mushafs in various parts of the world that apply rasm usmani. This is prooved by the brief description of the mushaf which always includes the element of rasm in it. The school that is adopted generally refers to the two imams of rasm, Abū 'Amr 'Uṡmān ad-Dānī and Abū Dāwūd Sulaimān ibn Najāḥ, by performing tarjīḥ on one of them. The Qur'an in Indonesia is no exception. In the 2020 and 2021 editions, Mushaf Standar Indonesia has included rasm affiliation that refers to the Ad-Dānī. This journal intends to conduct a study of the factors that caused the standardization of Indonesian rasm mushaf to Ad-Dānī. After tracing the history of the Qur'an in Indonesia, it is found that the rasm affiliation to Ad-Dānī is caused by several factors, those are the similarity of Ad-Dānī's rasm to the writing of conventional Arabic script, the familiarity of the Indonesian society's reading tradition towards the imla'i model, the lack of public knowledge about the use of rasm in the Qur'an, and the use of Al-Itqān by As-Suyūṭī as a major reference.
Downloads
Download data is not yet available.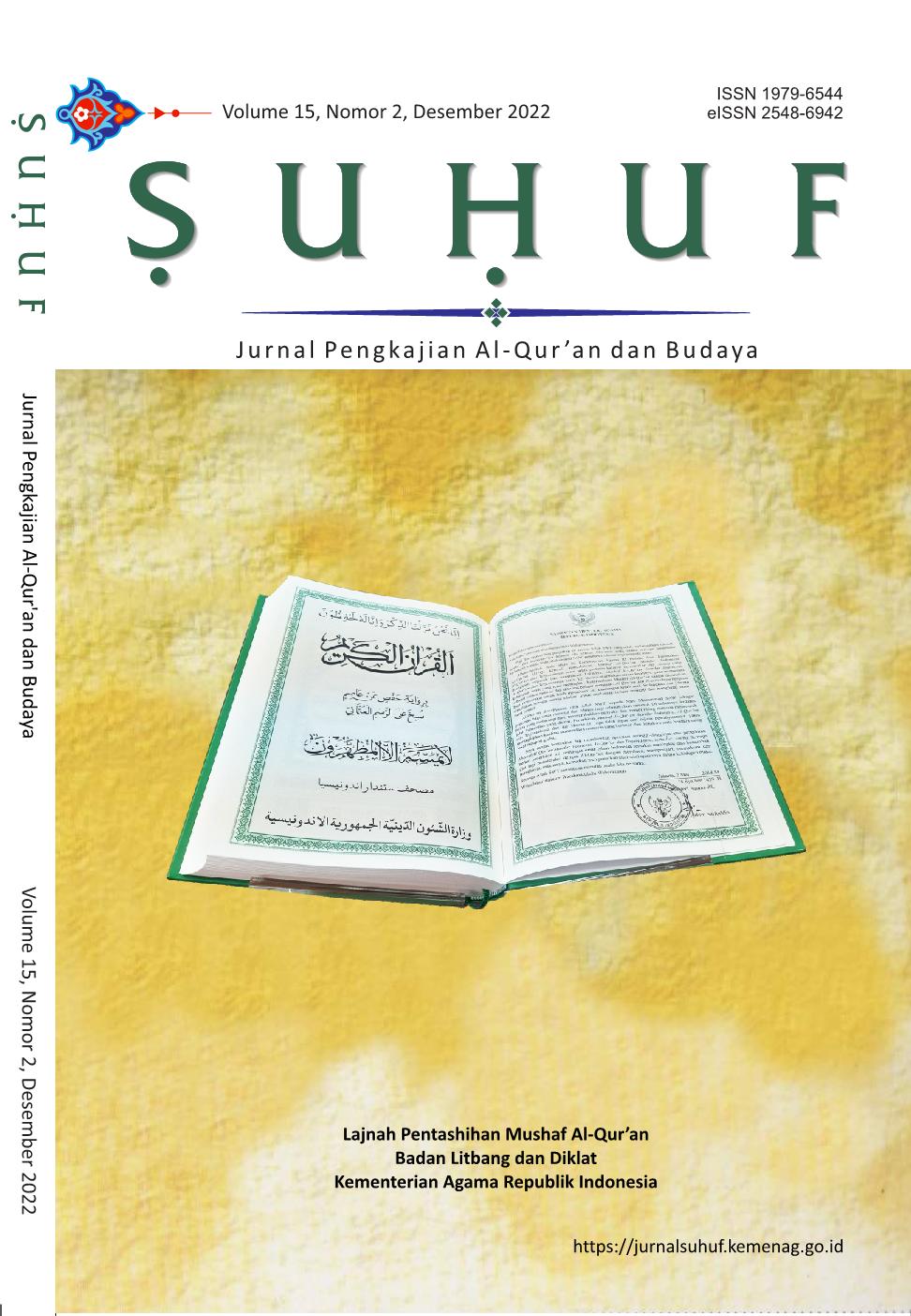 How to Cite
Fais, N., Khasanah, N., & Al Muafa, K. (2023). Pembakuan Rasm Riwayat Abū 'Amr Ad-Dānī dalam Mushaf Standar Indonesia. SUHUF, 15(2). https://doi.org/10.22548/shf.v15i2.733
Copyright (c) 2022 SUHUF
This work is licensed under a Creative Commons Attribution-NonCommercial-ShareAlike 4.0 International License.