JEJAK MUSHAF AL-QUR'AN BOMBAY DI INDONESIA
Mustopa Mustopa

Ali Akbar

Zarkasi Afif

Jonni Syatri

Ahmad Jaeni

Muhammad Musadad

Zainal Arifin

Harits Faddly

Irwan Irwan
Abstract
This paper studies the historical footprint of the Qur'anic printed manuscript of Bombay, India in Indonesia. The aspect to be studied is how in the early years of the publication of the Al-Qur'an Manuscripts, the Bombay Manuscripts were so dominant in Indonesia. In addition to that, the publication with Bombay style became the choice in the National Meeting forum of the Indonesian Muslim scholars to formulate and determine standard of the Qur'anic Mushaf in Indonesia. This paper will also give a description concerning the early generation of Indonesian manuscript publishers and their networks among them. The results of the field studies and literature show that in the late 18th and early 19th centuries, the Bombay Manuscripts were more widely circulated in the community than other Manuscripts. Therefore, the first generation of the Manuscripts publishers preferred this model Manuscripts to be printed. In addition to that, the reading marks were more complete that it become easier for the public to read it   if it was compared to that of other countries' Manuscripts. The master of the manuscripts among the publishers was the same because it came from the same source and also because the publishers of this generation are Arab colonies which were connected to one another. In order not to be the same, the publishers made additional texts on the Manuscripts, both in the front and in the back, besides its differences in illuminations. In addition to the convenience factor, the Bombay Mushaf which was used as a reference in the determination of the Indonesian Standard Mushaf also became the identity enhancer for the Quranic Mushaf  which was used by Indonesian Muslim at that time.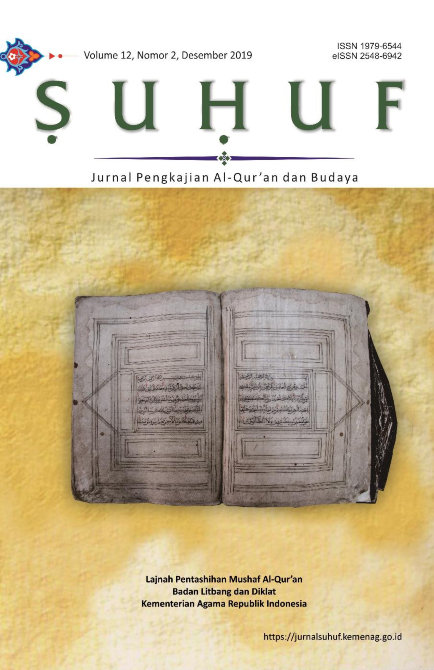 Copyright (c) 2019 SUHUF Jurnal Pengkajian Al-Qur'an dan Budaya
This work is licensed under a Creative Commons Attribution-NonCommercial-ShareAlike 4.0 International License.