KRITIK OEMAR BAKRY TERHADAP TERJEMAHAN PUITIS H.B. JASSIN:
STUDI ATAS POLEMIK TERJEMAHAN AL-QUR'AN DI INDONESIA
Muhammad Saifullah

Pascasarjana UIN Sunan Kalijaga Yogyakarta
Abstract
My aim in this article is to investigate critical Qur'an translation of Oemar Bakry upon H.B. Jassin's translation. There are two points appropriated to discuss: Bakry's endeavor to lobbying Religion Ministry related to Jassin's interpretation of Qur'an and its context succeeded in triggering an extraordinary polemic amongst Indonesian thinkers along 1978-1982. First revolves with Bakry's letter sent to the Minister of religion and put in a prologue of his book, Polemik H. Oemar Bakry dengan H.B. Jassin. One could see therein how Bakry hopes the Minister to stop the production of Jassin's because it has desecrated the Qur'an itself. Second appears in various response come from the Ministry of Health and a few scholars such Quraish Shihab, Mustofa Bisri, and its kind. The article demands to unload what is the original intention of Bakry and how could his critics come up till evoke the polemic. This, therefore, argues that what actually happened within them is such reciprocal engagement. Bakry obtains an advantage of sale book and Jassin gets a raised popularity.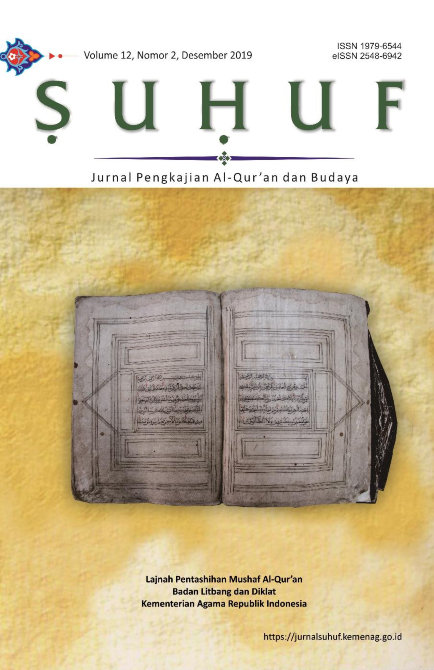 Copyright (c) 2019 SUHUF Jurnal Pengkajian Al-Qur'an dan Budaya
This work is licensed under a Creative Commons Attribution-NonCommercial-ShareAlike 4.0 International License.