NASKAH TAFSIR AL-QUR'AN CANDI CANGKUANG:
Penelusuran Historisitas dan Kontribusinya Bagi Khazanah Tafsir Nusantara
Dadang Darmawan

Irma Riyani

Universitas Islam Negeri Sunan Gunung Djati Bandung
Keywords:
Al-Qur'an, Candi Cangkuang, Historical, Manuscript, Tafsir
Abstract
The study of religious manuscript is important task to do to preserve the ancient intellectual sources of Muslim scholars in Indonesia. Religious manuscripts have been found in many different areas in Indonesia including Qur'anic manuscript. However, among others, Qur'anic and Tafsir manuscripts are the least to be discovered. Several researchers have reported that only a few Qur'anic manuscripts discovered. Among this limited discovery is Candi Cangkuang Qur'anic and tafsir manuscript founded in Garut, West Java. This research attempts to examine Candi Cangkuang Qur'anic and tafsir manuscript. Particular attention is given to investigate its origin, contents and structures of the manuscript. This research employs qualitative method to find out socio-historical background of the manuscript. This research shows that Candi Cangkuang Qur'anic manuscript was brought out to Garut by Arif Muhammad from his home town in Central Java, around South coastal area known as Muria region, as shown in its language used in this manuscript. This manuscript can be categorized as tafsir lughowi as the author wrote it word-by-word explanation. This type of tafsir is resemblance with tafsir al-Jalālayn that popular in Indonesian pesantren. The Qur'anic text is written in naskh script, while its tafsir in riq'ah script.
Keywords:
Al-Qur'an; Candi Cangkuang; historical; manuscript; tafsir
Downloads
Download data is not yet available.
References
Akbar, A. 2014. "Manuskrip Al-Qur'an dari Sulawesi Barat Kajian Beberapa Aspek Kodikologi." Suhuf 7(1): 101 - 123.
Ankersmit, F.R. 1987. Refleksi Tentang Sejarah, Pendapat-Pendapat Modern Tentang Sejarah. Jakarta: Gramedia.
Anwar, Rosihon, Dadang Darmawan, dan Cucu Setiawan. 2016. "Kajian Kitab Tafsir dalam Jaringan Pesantren Di Jawa Barat." Wawasan Jurnal Ilmiah Agama dan Sosial Budaya 1(1): 56–69.
Baried, Dkk. 1985. Pengantar Teori Filologi. Jakarta: Pusat Pembinaan dan Pengembangan Bahasa Departemen Pendidikan dan Kebudayaan.
Bruinessen, Martin van. 1999. Kitab Kuning, Pesantren Dan Tarikat: Tradisi-Tradisi Islam Di Indonesia. Bandung: Mizan.
Djamaris, Edwar. 2002. Metode Penelitian Filologi. Jakarta: Manasco.
Ekadjati, Edi. S. 1982. Cerita Dipati Ukur Karya Sastra Sejarah Sunda. Jakarta: Pustaka Jaya.
Ekadjati, Edi S. 2003. "Sundanese Manuscripts: Their Existence, Functions, and Contents." Journal of the Centre for Documentation & Area-Transcultural Studies 2: 124–34.
Farida, Umma. 2015. "Islamisasi Di Demak Abd XV M: Kolaborasi Dinamis Ulama Umara Dalam Dakwah Islam di Demak." At-Tabsyir: Jurnal Komunikasi Penyiaran Islam 3(2).
Fathurahman, Oman. 2015. Filologi Indonesia Teori Dan Metode. Jakarta: Kencana Prenada Group & UIN Jakarta Press.
Feener, R.M. 1998. "Notes Toward the History of Qurânic Exegesis in Southeast Asia." Studia Islamika; Indonesian Journal for Islamic Studies 5(3): 47 - 76.
Gacek, Adam. 1986. "The Use of 'Kabikaj' in Arabic Manuscripts." dalam Manuscripts of the Middle East 1, 49–53. Leiden: Ter Lugt Press.
Geertz, Clifford. 1971. Islam Observed. Chicagho: The University of Chicagi Press.
Gumbert, J.P. 2004. "'Fifty Years of Codicology',." Archiv Fur Diplomatic 50: 506–7.
Gusmian, Islah. 2015. Metode Penelitian Al-Qur'an dan Tafsir. Yogyakarta: Idea Sejahtera.
Harun, Salman. 1999. Mutiara Al-Qur'an Aktualisasi Pesan Al-Quran dalam Kehidupan. Jakarta: Logos.
Hizbullah, Nur., Iin Suryaningsih, Zaqiatul Mardiah, 2019. "Manuskrip Arab di Nusantara dalam Tinjauan Linguistik Korpus." Arabi: Journal of Arabic Studies 4(1): 65-74.
Ikram, Achadiati. 1997. Filologia Nusantara. Edited by Titik Pudjiastuti dkk. Jakarta: Pustaka Jaya.
Katrini, Yulia Esti. 2002. "Bahasa Jawa Di Jawa Tengah Bagian Timur." Universitas Gadjah Mada Yogyakarta.
Lavidus, Ira M. 1988. A History of Islamic Societies. Cambridge: Cambridge University Press.
Lubis, Nabilah. 1996. Naskah, Teks Dan Metode Penelitian Filologi. Jakarta: Forum Kajian Bahasa dan Sastra Arab.
Mastuki, HS, and M. El-Saha Ishom, eds. 2006. Intelektualisme Pesantren; Potret Tokoh dan Cakrawala Pemikiran di Era Pertumbuhan Pesantren. Jakarta: Diva Pustaka.
Munawar, Zaki. 2002. Cagar Budaya Candi Cangkuang Dan Sekitarnya. Garut: Dinas Pariwisata Seni dan Budaya.
———. 2015. "Kampung Pulo Sekarang Dan Permasalahannya." dalam Garut: Seminar Budaya Dalam Rangka HUT Kabupaten Garut Yang Ke-202.
Nurtawab, Ervan. 2009. "The Tradition of Writing Qur'anic Commentaries in Java and Sunda." Suhuf 2(2): 163 - 195.
"OR 1928." 2019. Accessed August 29. https://digitalcollections.universiteitleiden. nl/view /item/1576531.
Permadi, Tedi. 2012a. "'Identifikasi Bahan Naskah (Daluang) Gulungan Koleksi Cagar Budaya Candi Cangkuang Dengan Metode Pengamatan Langsung dan Uji Sampel Di Laboratorium." Jumantara 3(1): 128–47.
———. 2012b. "Naskah Gulungan Koleksi Cagar Budaya Candi Cangkuang: Tinjauan Medium Dan Kandungan Teks." Universitas Padjadjaran.
Pigeaud, Theodore G. Th. 1967. Synopsis of Javanese Literature 900-1900 A.D. Leiden: KITLV.
Rasmussen, Anne k. 2001. "The Qur`an in Indonesia Daily Life: The Public Project of Musical Oratory." Ethnomusicology 45(1): 30 - 57.
Rohmana, Jajang A. 2014. Sejarah Tafsir Al-Qur'an di Tatar Sunda. Bandung & Jakarta: Mujahid Press & Diktis Kemenag.
________, 2018. "Empat Manuskrip Al-Qur'an di Subang, Jawa Barat (Studi Kodikologi Manuskrip Al-Qur'an)", Wawasan: Jurnal Ilmiah Agama dan Sosial Budaya 3(1):1 - 16.
Sangidu. 2016. Tugas Filolog: Teori dan Aplikasinya dalam Naskah-Naskah Melayu. Yogyakarta: Gadjah Mada University Press.
Saussure, F. de. 1996. Course in General Linguistics,. Edited by Charles Bally & Albert Sechehaye. New York: MC Graw-Hill.
Schrieke, B. J. O. 1916. Het Boek van Bonang. Utrecht: P den Boer.
Steenbrink, Karel A. 1984. Beberapa Aspek Tentang Islam Di Indonesia Abad Ke-19. Jakarta: PT Bulan Bintang.
Sudrajat, Enang. 2005. "Mushaf Kuno Jawa Barat." In Mushaf-Mushaf Kuno di Indonesia, edited by Fadhal Ar Bafadhal and Rosehan Anwar. Jakarta: Pusat Lektur Keagamaan Badan Litbang dan Diklat, Kementerian Agama RI.
Sugiyono. 2015. Metode Penelitian Kombinasi (Mixed Method). Bandung: Alfabeta.
Supriadi, Dedi. 2011. "Naskah Islam Klasik Di Candi Cangkuang (Kajian Kodikologi)." Bandung.
Suryaman, Eman. 2015. Jalan Hidup Sunan Gunung Jati. I. Bandung: Penerbit Nuansa Cendikia.
Syaifuddin. 2013. "Tradisi Penerjemahan Al-Qur'an ke dalam Bahasa Jawa: Suatu Pendekatan Filologis." Suhuf, 6(2): 225-248.
Syatri, Jonni. 2013. "Mushaf Al-Qur'an Kuno di Priangan: Kajian Rasm, Tanda Ayat, dan Tanda Waqaf." Suhuf, 6(2): 295-320.
Thiselton, Anthony C. 1992. New Horizons In Hermeneutics. Michigan: Zondervan Publishing house.
Ziolkowski. 1990. On Philology. Pennsylvania: Pennsylvania State University Pess.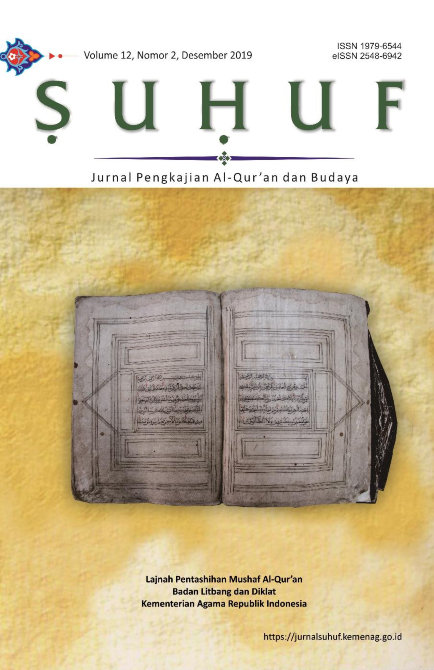 How to Cite
Darmawan, D., & Riyani, I. (2019). NASKAH TAFSIR AL-QUR'AN CANDI CANGKUANG:. SUHUF, 12(2), 227-249. https://doi.org/10.22548/shf.v12i2.465
Copyright (c) 2019 SUHUF Jurnal Pengkajian Al-Qur'an dan Budaya
This work is licensed under a Creative Commons Attribution-NonCommercial-ShareAlike 4.0 International License.