PREFERENSI MASYARAKAT DALAM PENGGUNAAN AL-QUR'AN DIGITAL
Zarkasi Afif

Harits Fadlly

Lajnah Pentashihan Mushaf Al-Qur'an (LPMQ) Badan Litbang dan Diklat Kementerian Agama RI

Ali Akbar

Lajnah Pentashihan Mushaf Al-Qur'an (LPMQ) Badan Litbang dan Diklat Kementerian Agama RI

Jonni Syatri

Mustopa Mustopa

Ahmad Jaeni

Abdul Hakim

Zainal Arifin

Dwi Martiningsih

Irwan Irwan

Muhammad Musadad
Keywords:
Qur'an Kemenag, The Application of the Qur'an, The Digital Qur'an
Abstract
In the end of August 2016, the Ministry of Religious Affairs, in this case the Committee of the Correction of Qur'anic Writing (Lajnah Pentashihan Mushaf Al-Qur'an) launched a digital Qur'an product called Qur'an Kemenag. At present there are only more than 25 thousand active users. This research wants to find out the factors that influence people's preferences in the use of Qur'an Kemenag's application. This study uses a mixed method, namely qualitative and quantitative. The population of this study is the muslim community of smartphone owners and users of the digital Qur'an. The selection of respondents was done by purposive sampling, conducted in 14 cities in Indonesia with a total of 50 respondents per city, and 3 informants for in-depth interviews. This research shows that Qur'an Kemenag is not widely used by muslim communities in Indonesia. They use the digital Al-Qur'an application developed by other parties more than that being developed by Ministry of Religious Affairs. Factor that influences people's preferences for using an Al-Qur'an digital application are features and complete content. In addition to that, the facilities provided are not only the Qur'an, but also multifunctional needs.
Downloads
Download data is not yet available.
References
Data google analytica yang dikirimkan oleh Pengembang Al-Qur'an Digital LPMQ Kemenag sampai Maret 2018
Davis, Fred D. 1989. "Perceived Usefulness, Perceived Ease of Use and User Acceptance of Information Technology." MIS Quarterly 13 (3): 319-340.
Hackett, Rosalind I. J. 2006. "Religion and the Internet." Diogenes 53 (3): 67-76.
Helfi, Yudi, t.th. "Behavioral Intention Terhadap Unity Desktop Environent pada Distro Linux Ubuntu," Universitas Indonesia, Depok. https://databoks.katadata.co.id/datapublish/2016/08/08/pengguna-smartphonedi-indonesia-2016-2019
Possamai, Adam. 2005. Religion and Popular Culture: A Hyper Real Testament. Brussel: Peter Lang
Ridholloh, 2016. "Pengaruh Teknologi Al-Qur'an Digital dan Motivasi Belajar terhadap Kemampuan Baca Tulis Al-Qur'an Siswa SMPN 185 Jakarta." Universitas Islam Negeri (UIN) Syarif Hidayatullah, Jakarta
Setiansah, Mite. 2015. "Smartphonisasi Beragama: Transformasi Perilaku Beragama Perempuan Urban di Era Digital." Jurnal Komunikasi 10 (1): 1-10.
Syatri, Jonni, dkk. 2017. "Sikap dan Pandangan Masyarakat Terhadap Terjemahan Al-Qur'an Kementerian Agama." Suhuf 10 (2): 227-262.
Winardi, Ibnu Arif. 2015. "Pengunaan Media Al-Qur'an Digital Dalam Meningkatkan Kemampuan Baca Al-Qur'an Siswa Kelas X SMAN 2 Ngaglik Sleman, Yogyakarta." Universitas Islam Negeri (UIN) Sunan Kalijaga, Yogyakarta.
Windawati, Sri dan Hadi Sutopo. 2016. "Aplikasi Mari Belajar Membaca dan Menulis Al-Qur'an untuk Anak Berbasis Android Menggunakan Adobe Flash Professonal CS6." Kalbiscientia 3 (2): 39-44.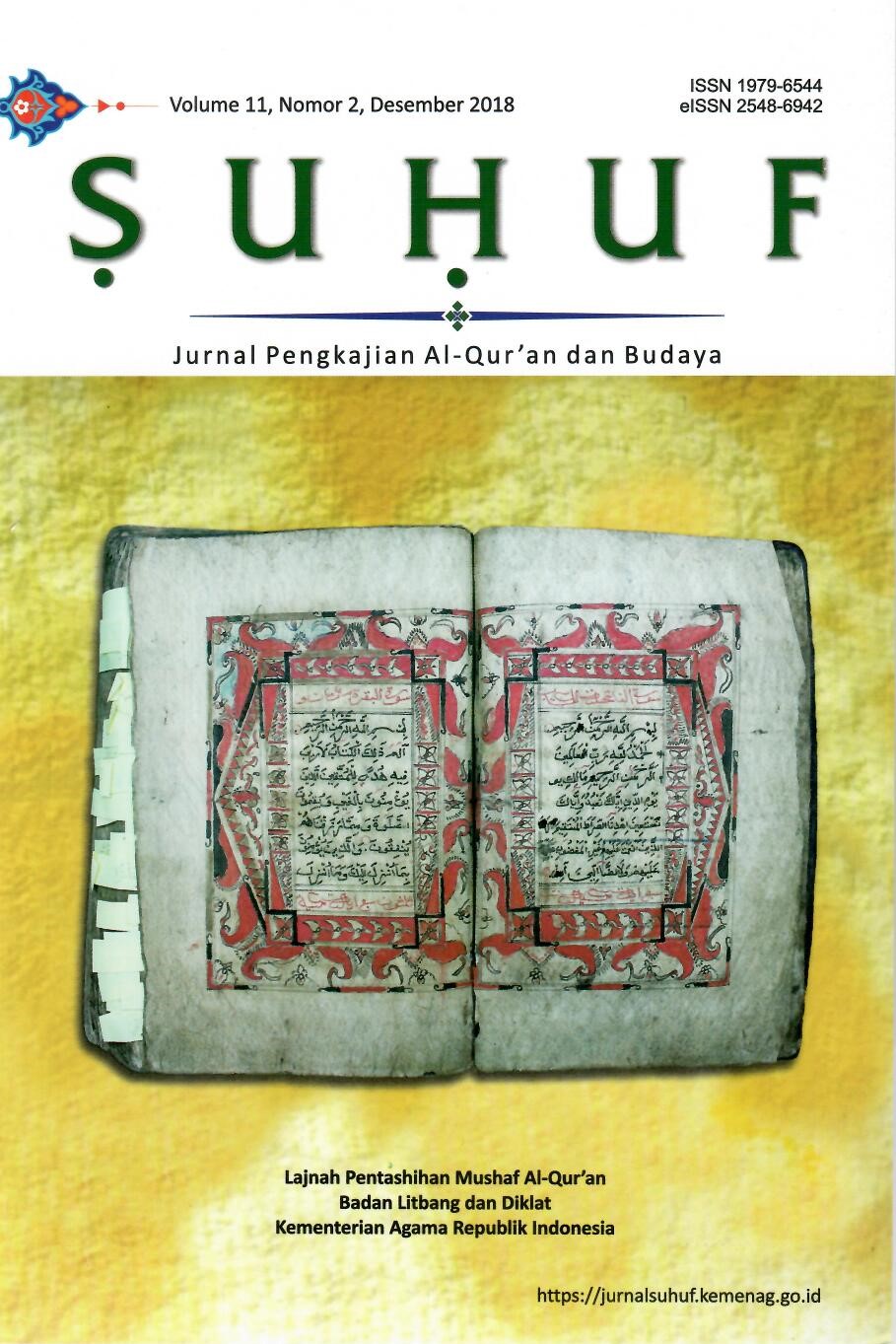 How to Cite
Afif, Z., Fadlly, H., Akbar, A., Syatri, J., Mustopa, M., Jaeni, A., Hakim, A., Arifin, Z., Martiningsih, D., Irwan, I., & Musadad, M. (2018). PREFERENSI MASYARAKAT DALAM PENGGUNAAN AL-QUR'AN DIGITAL. SUHUF, 11(2), 185 - 214. https://doi.org/10.22548/shf.v11i2.415
Copyright (c) 2018 SUHUF Jurnal Pengkajian Al-Qur'an dan Budaya
This work is licensed under a Creative Commons Attribution-NonCommercial-ShareAlike 4.0 International License.