MENIMBANG PERBEDAAN RASM UṠMĀNĪ
Tinjauan Buku
Keywords:
Indonesian Standard Qur'an, al-Mus?af al-Madinah, al-Mus?af, ?U?mani Rasm
Abstract
Critics to Indonesian Standard Qur'an concerning the use of rasm continue to be carried out by a number of circles. The book of Difference of Uṡmānī Rasm Between Indonesian Standard Qur'an and al-Musḥaf al-Madīnah of Saudi Arabia in the Perspective of ad-Dānī and Abū Dawūd by Zainal Arifin Madzkur comes to answer those critics. The review of this book will look at the objectivity of the discussion conducted by the author on the two mushafs that were compared. The tendency of the author of the book is inevitable, but remains in the corridor of scientific objectivity. This book makes a significant contribution, especially to Indonesian Standard Qur'an that has not had a comprehensive scientific foundation yet. The notes are given to the main points of this book in order to give a balanced view, especially relating to the use of the uṡmānī rasm in the mushaf. This book shows that the use of the uṡmānī rasm in the Qur'an cannot be based only on one or two schools, considering the complexity of the study of the uṡmānī rasm. Therefore, the most correct claim cannot be raised as each mushaf has advantages and disadvantages that cannot be avoided.
Downloads
Download data is not yet available.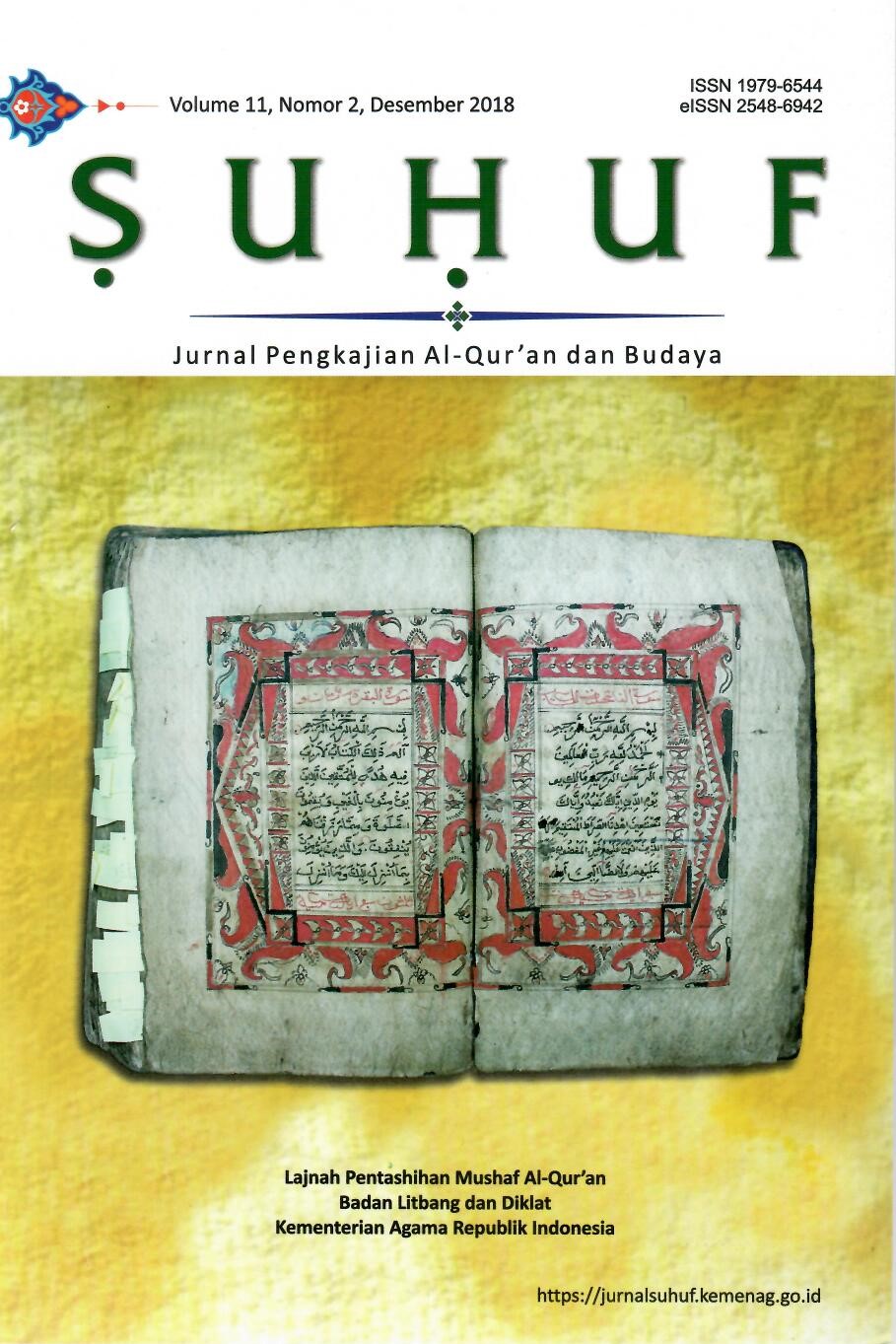 How to Cite
Mustopa, M. (2018). MENIMBANG PERBEDAAN RASM UṠMĀNĪ. SUHUF, 11(2), 359 - 372. https://doi.org/10.22548/shf.v11i2.414
Copyright (c) 2018 SUHUF Jurnal Pengkajian Al-Qur'an dan Budaya
This work is licensed under a Creative Commons Attribution-NonCommercial-ShareAlike 4.0 International License.