MEMBACA A-QUR'AN DENGAN TRANSLITERASI ARAB LATIN
Studi pada Masyarakat Payakumbuh dan Sekitarnya
Keywords:
Latin-Arabic transliteration, learning Al-Qur'an, Reading the Qur'an
Abstract
This article discusses the phenomenon of the use of transliteration in reading the Qur'an. The focus of the research takes place in Payakumbuh and its surroundings which is known as an area whose people are predominantly muslim. This research was conducted by using a qualitative approach. Data are obtained by structured interviews and observations. In this study it can be seen that there are some people who use transliteration in reading the Qur'an. They hope that the Qur'anic transliteration can be continually developed in order to make it easier for those who are unable to read the Qur'an in Arabic letters. However, some groups, such as teachers and religious educators, do not approve the transliteration of the Qur'an.
According to them, the transliteration of the Qur'an has a greater harm than that of the benefits. The existence of transliteration is worried to weaken the enthusiasm of muslims to learn how to read the Koran in Arabic letters. In addition to that, the Latin letter symbol is considered unable to accurately represent Arabic letters in terms of makhraj and its nature, so it is worried that there will be a mispronunciation of the
recitation of the Qur'an.

Keywords
Reading the Qur'an, Latin-Arabic transliteration, learning Al-Qur'an, reading and writing the Qur'an.
Downloads
Download data is not yet available.
References
al-A'zami, Muhammad Mustafa. 2003. The History of The Qur'anic Text: From Revelation to Compilation. Leicester: UK Islamic Academy.
Abbas, Siradjuddin. 1990. 40 Permasalahan Agama. Jakarta: Pustaka Tarbiyah.
Ahmad, Nur Fauzan. 2017. "Problematika Transliterasi Aksara Arab-Latin: Studi Kasus Buku Panduan Manasik Haji Dan Umrah." NUSA 12(1): 126–36. https://ejournal.undip.ac.id/index.php/nusa/article/download/15643/11713.
Beeston, A.F.L. 1970. The Arabic Language Today. London: Hutchinson University Library.
Djuhro S, M. 2000. "Transliterasi Arab-Latin dan Permasalahannya." Al-Maktabah 2(1): 58–67. http://journal.uinjkt.ac.id/index.php/al-maktabah/article/view/1738/1427.
al-Faruqy, Ismail Raji. 1995. Toward Islamic English. 4th ed. Virginia: International Institute of Islamic Thought. https://id.scribd.com/doc/39849521/TowardIslamic-English.
Gusman. 2017. "Analisis Faktor Penyebab Kurangnya Kemampuan Siswa dalam Baca Tulis Al-Qur'an Di MTsN Kedurang Bengkulu Selatan." al-Bahtsu 2(2): 231–38. http://ejournal.iainbengkulu.ac.id/index.php/albahtsu/article/ download/693/614.
Hadler, Jeffrey. 2010. Sengketa Tiada Putus: Matriarkat, Reformisme Islam, Dan Kolonialisme Di Minangkabau. Jakarta: Freedom Institute.
al-Haitamiy, Ibnu ?ajar. Al-Fatawa Al-Kubra Al-Fiqhiyyah. Mesir: 'Abd al-?amid A?mad ?anafi.
Handawi, 'Ali Isma'il as-Sayyid. 1410. Jami' Al-Bayan Fi Ma'rifah Rasm Al-Qur'an. Riyad: Dar al-Furqan.
al-Jamal, Sulaiman bin 'Umar bin Man?ur al-'Ajili. Futu?at Al-Wahhab Bi Tauai? Syar? Manhaj At-Tullab (?asyiyah Al-Jamal). Beirut: al-I?ya' at-Tura? al-'Arabi.
al-Jarami, Ibrahim Mu?ammad. 2001. Mu'jam 'Ulum Al-Qur'an. Damaskus: Dar al-Qalam.
Kridalaksana, Harimurti. 2008. Kamus Linguistik. IV. Jakarta: Gramedia.
Musadad, Muhammad. 2017. "Al-Qur'an Transliterasi Latin dan Problematikanya dalam Masyarakat Muslim Denpasar." Suhuf 10(1): 193–209.
Ong, Walter J. 2013. Kelisanan Dan Keaksaraan. Yogyakarta: Penerbit Gading.
Pedoman Tajwid Transliterasi Al-Qur'an. 2007. Jakarta: Lajnah Pentashihan Mushaf Al-Qur'an.
Riaa, Mu?ammad Rasyid. 1947. Tafsir Al-Qur'an Al-?akim (Tafsir Al-Manar). Kairo.
Rosyid, Abdul. 2012. "Romanisasi Al-Qur'an: Translietrasi vs Transkripsi." Institut Ilmu Al-Qur'an.
Rosyid, Abdul. 2013. "Menyoal Penggunaan Transliterasi Arab-Latin Keputusan Bersama Dua Mentri Untuk Al-Qur'an." In Al-Qur'an Di Era Global: Antara Teks dan Konteks, ed. Muchlish M. Hanafi. Jakarta: Lajnah Pentashihan Mushaf AlQur'an.
Saeed, Abdullah. 2016. Pengantar Studi Al-Qur'an. Yogyakarta: Baitul Hikmah Press
Sarnapi. 2017. "Ironis, 54% Muslim Indonesia Tak Bisa Baca Alquran." Pikiran Rakyat. http://www.pikiran-rakyat.com/nasional/2017/12/14/ironis-54-muslimindonesia-tak-bisa-baca-alquran-415880. Diunduh tanggal 30 Oktober 2018 pukul 15:35 WIB.
Tim Peneliti Puslitbang Lektur dan Khazanah Keagamaan. 2016. Indeks Literasi Al-Quran Nasional Siswa Sekolah Menengah Atas (SMA) Tahun 2016.
Tim Penyusun Kamus Pusat Bahasa. 2001. Kamus Besar Bahasa Indonesia. Edisi III. Jakarta: Balai Pustaka.
Tim Puslitbang Lektur Keagamaan. 2003. Pedoman Transliterasi Arab-Latin. Jakarta: Proyek Pengkajian dan Pengembangan Lektur Pendidikan Agama.
Ummah, Siti Sumihatul dan Abdul Wafi. 2018. "Metode-Metode Praktis dan Efektif dalam Mengajar Al-Quran Bagi Anak Usia Dini." In Annual Conference on Islamic Early Childhood Education 2017, Yogyakarta: Program Studi Pendidikan Anak Usia Dini Fak. Tarbiyah dan Ilmu Keguruan UIN Sunan Kalijaga. http://ejournal.uin-suka.ac.id/tarbiyah/conference/index.php/aciece/aciece2/paper/view/49/38.
Wulandari, Dewi. 2017. "Perbandingan Pembelajaran Al-Quran Menggunakan Metode Tilwati dan Metode Ummi." Universitas Islam Negeri Maulana Malik Ibrahim Malang. https://core.ac.uk/download/pdf/160021700.pdf.
al-Zirikli, Khair ad-Din. 2002. Al-A'Lam. Beirut: Dar al-'Ilm lil-Malayin.
Wawancara
Ibu Dewi, 22 September 2016.
Ibu Sari, 23 September 2016.
Ibu Nita, 23 September 2016.
Ibu Desi, 26 September 2016.
Ustaz Lingga Fakhri, pengajar Al-Qur'an, 22 September 2016.
Ustaz Rahman, pengajar Al-Qur'an, 20 September 2016.
Ustaz Dedi, penyuluh Kementerian Agama, 19 Desember 2016.
Ustaz Hasnul F, pengajar di Ashhabul Qur'an, 22 September 2016.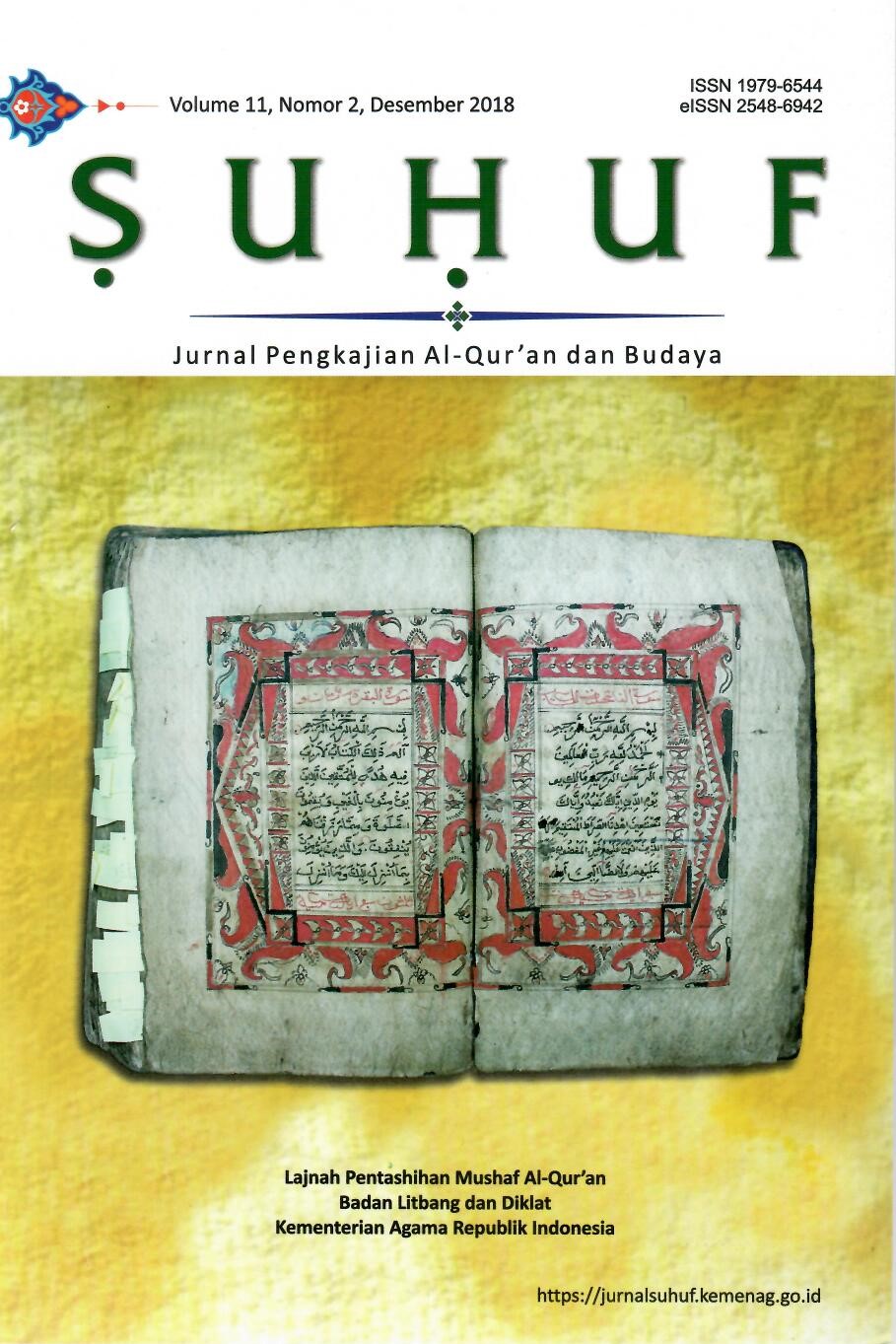 How to Cite
Syatri, J. (2018). MEMBACA A-QUR'AN DENGAN TRANSLITERASI ARAB LATIN. SUHUF, 11(2), 337 - 358. https://doi.org/10.22548/shf.v11i2.410
Copyright (c) 2018 SUHUF Jurnal Pengkajian Al-Qur'an dan Budaya
This work is licensed under a Creative Commons Attribution-NonCommercial-ShareAlike 4.0 International License.