KONSEP RELASI LAFẒ DAN MA'NĀ DALAM PERSPEKTIF 'ABDUL QĀHIR AL-JURJĀNĪ DAN IMPLIKASINYA TERHADAP PENAFSIRAN
M Kamalul Fikri

Pascasarjana UIN Sunan Kalijaga
Abstract
One of the study objects in Arabic study is related to the issue of  (word) and ma'na (meaning). The lafẓ and ma'na studies are actually not only seriously studied by 'Abdul Qāhir al-Jurjānī (d. 471 H/ 1078 CE). In general, there are at least two groups in linguistic studies, namely the group that emphasizes mostly on pronunciation and another one is supported group of meaning. According to al-JurjÄni, a lafẓ is a sign, an attribute for ma'na. Lafẓ becomes part of language which is not placed to show ma'na for itself, but to be collected from one another so that the contents are known. The existence of a lafẓ is certainly be preceded by ma'na, while ma'na in the view of al-Jurjānī is the intended idea or purpose. This article reveals and understands al-Jurjānī's theory of the relationship between lafẓ and ma'na and their implications to the interpretation of the Qur'an. This research is a qualitative research by using the main references of two phenomenal works of al-Jurjani, namely Dalāil al-I'jāz and Asrār al-Balāgah.
Downloads
Download data is not yet available.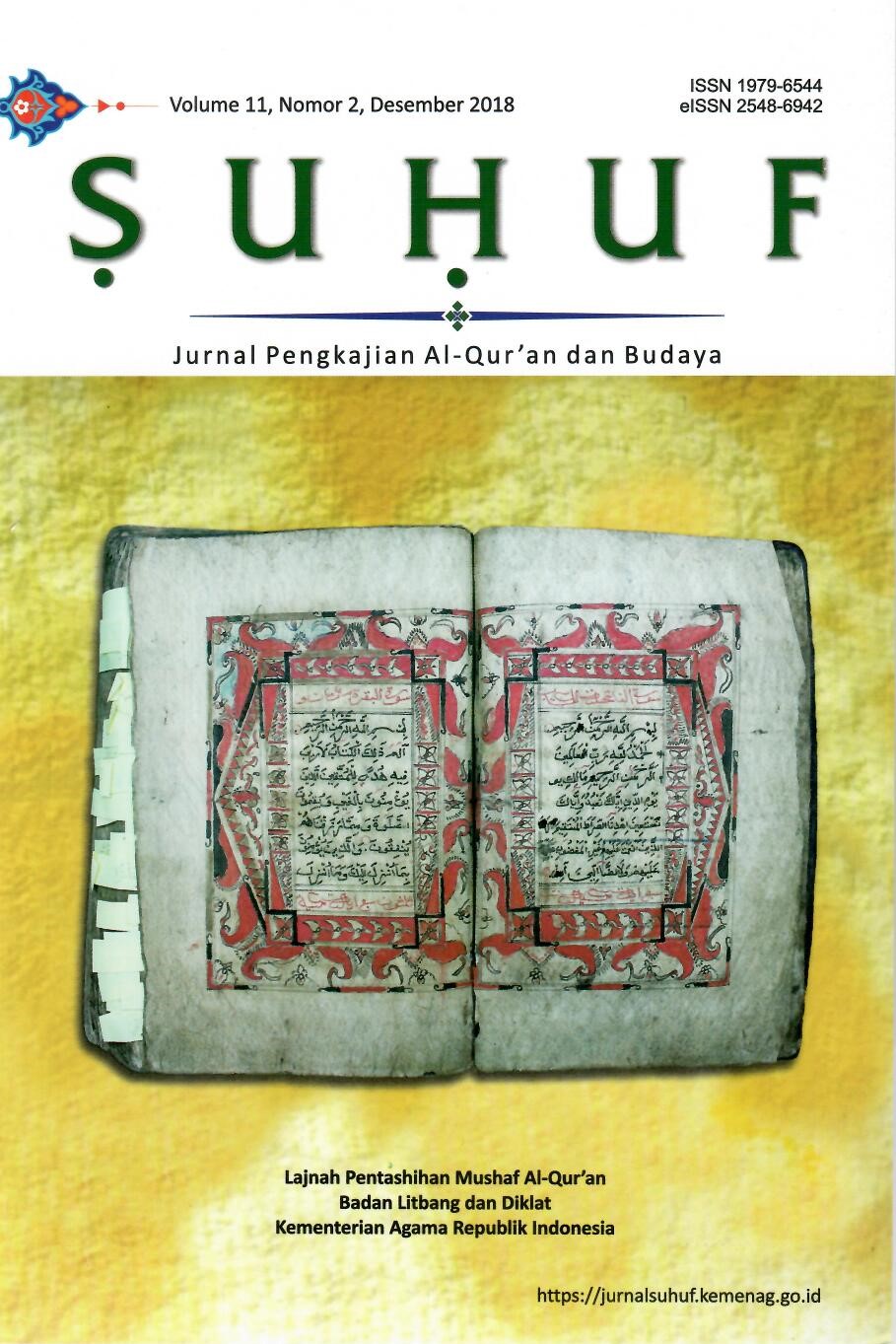 How to Cite
Fikri, M. (2018). KONSEP RELASI LAFẒ DAN MA'NĀ DALAM PERSPEKTIF 'ABDUL QĀHIR AL-JURJĀNĪ DAN IMPLIKASINYA TERHADAP PENAFSIRAN. SUHUF, 11(2), 309 - 336. https://doi.org/10.22548/shf.v11i2.344
Copyright (c) 2018 SUHUF Jurnal Pengkajian Al-Qur'an dan Budaya
This work is licensed under a Creative Commons Attribution-NonCommercial-ShareAlike 4.0 International License.